Alphabetical List of Gallia County Post Offices
The above links bring you to an alphabetical list of 125 post offices that existed in Gallia County at one time or another, some of which are still in use today, and to several related articles. This data collection was the inspiration of Mary Crittenden and has been about two years in the making. The information comes primarily from the National Archive's microfilms: The Post office Department Reports of Site Locations, 1837-1950; M1126, roll 453, and the Record of Appointment of Postmasters, 1832 – September 30, 1971; M841, roll 99. Each post office entry describes the location and the years it was in operation. Additional miscellaneous material is included as found on the microfilms.
The locations of these post offices are as submitted on the applications and usually give part of a section, the section number and the township. To determine the location within the township, please refer to the township maps located on this web site -- the section numbering is not consistent: some townships follow a horizontal plan and some a vertical. In addition, there are townships with shapes that drop out a few sections or have partial sections as along the Ohio River.
Some additional information has been added and is given in brackets: full name of railroads, county and/or state for post offices outside of Gallia County – information that explains what is in the applications.
About the Author, Mary Crittenden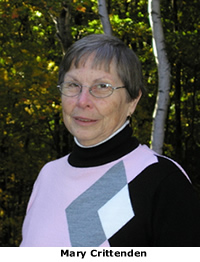 As a family genealogist who loves to do research, Mary Crittenden brings that love to our website. She was born in Adair Co., MO and lived there until the summer she was nine and the family moved to Huntington, IN. Mary went to school in Huntington and then on to Purdue University where she earned a bachelor's degree in Child Development. She married a fellow Purdue alumnus and they moved to Connecticut. They lived in South Windsor for many years with their two children. In 1986 her daughter graduated from university, her son from high school and Mary received her masters in therapeutic recreation. Mary now lives in Manchester, CT. and works part time in an adult day care center.
Her parents were active in the Huntington Co. Historical Society in Indiana. Her mother, Doris Chambers wrote a book on the Ghost Towns of Huntington Co. The Huntington Historical Society asked permission to reprint that small book. Doris was not able to assist them in any way so Mary tended to the things her mother would have done in preparing the manuscript for reprint and researching questions from members of the historical society. In addition, she wrote a few introductory remarks. In preparing this material, Mary made use of the NARA microfilms for Huntington Co., IN Post Offices.
This member of our society combined her love of research, interest in the postal service (partly due to having an ancestor that was a post master in Gallia Co.) and desire to contribute to our organization to take on this project. Mary says, "It was just natural for me to decide that I wanted to do this project. When the National Archives sent a notice that the cost of microfilms was going up. I decided that if I was really interested, I should buy the films and get started."
Her love for Gallia Co. goes back to the hours she spent with her paternal grandmother, Cora Kerns Chambers. Cora told of life growing up in Gallia Co. and many stories of the Kerns and Thierry families.