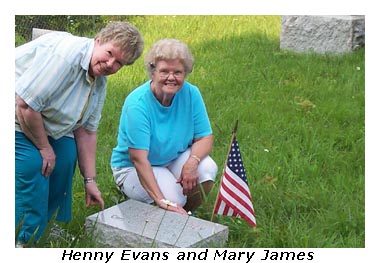 Vice President Richard Cheney has accepted an invitation to become an Honorary Member of the Gallia County Genealogical Society, OGS Chapter Lineage Society, Civil War Families of Gallia County, OGS, Est. 2004.
In April 2006 a genealogical researcher contacted Michael Trowbridge, now deceased and a former life member of the Gallia County Genealogical Society, OGS Chapter, about his interest in Civil War research. He wanted to know if Mike knew anything about Samuel F. Cheney, Capt., Co. B, 21 st Ohio Volunteer Infantry. Learning of this, Henny Evans, local president of the OGS Chapter, suggested that if the connection was made, they would ask the Vice President if he would like to become an honorary member of the lineage society. Evans and another member, Mary James, started working together to see what they could "dig up." Both found Internet sites listing Cheney's line but when they came to his great grandfather, no one had listed his date of death or his burial site. The man indeed was Samuel Fletcher Cheney, and he had served in the Civil War in Ohio. This information matched what was on the tombstone for Samuel F. Cheney found in Webster Cemetery in Walnut Township .
Evans and James made a trip back to the cemetery (Evans and her brother-in-law Thomas S. Moulton, Sr. had copied the information on the graves there in 1978). The old Webster homestead is across the road from a barn which bears the inscription Old Homestead, 1864, J. Noah Webster. The cemetery is about a quarter of a mile behind the barn and is nicely maintained. Evans and James found the tombstone of Samuel F. Cheney and his wife Ellen Cheney who died in 1909 in Gallia County.
Puzzled as to why Samuel was buried in Gallia County, they were able to learn that Samuel was born in New Hampshire and later moved to Defiance, Ohio where he enlisted during the Civil War. After the war he moved to Nebraska and is located there in both 1900 and 1910 census records. Why then was he buried in Gallia County in 1911? It was determined that Samuel and Ellen Cheney's daughter, Belle, had married Delbert Webster. They lived in and had children in Nebraska and then came to Gallia County where Delbert's family lived. They had more children in Gallia County and their names are in Gallia County Birth Records. Samuel and Ellen were in Nebraska in 1900. Evans and James surmise that Ellen came to visit their daughter, Belle, in Gallia County and died here, for Evans found her death certificate in Gallia County in 1909. Whether she came here sick or became sick after her trip is not known. James determined that Samuel was still in Nebraska in 1910. His tombstone gave his date of death as 1911. It is a good guess that he was brought here to be buried beside his wife.
Evans made calls to three Nebraska counties to see if Samuel had any Probate records there; he did not. He does not have a death certificate in Gallia County. An effort was also made to determine if he had a death certificate in Nebraska. This became a roadblock as one either had to go there or prove they are next of kin to get that information which was not feasible or possible
.
With all the evidence collected, Evans and James contacted Vice President Cheney's office and informed him of what they had been doing and what had been found. Normally an application must be submitted with a copy of the applicant's birth certificate, but they simply asked that Vice President Cheney confirm the line of descent for them and he would be made an honorary member.
In the letter to Vice President Cheney, Evans wrote "We feel that this is a significant part of our local history and we would like very much to let the community know of this connection to Vice President Cheney." She added, "the research which we have compiled was completed by myself, Henrietta Evans, and one of our members, Mary James. We located a family tree using online resources, then we checked out census records, marriage records, birth records, and the death record of Samuel Cheney's wife here in Gallia County. We also visited the gravesite and took pictures of Samuel's tombstone and several other family members."
"We eagerly await your reply and hope that Vice President Cheney will accept honorary membership into our lineage society."
Evans also added a PS "Breakthrough" nowhere in our searching did we find that anyone else had the death date for Samuel F. Cheney or his burial site. We think this is information that can be added to the family tree as we have documented here for you. Picture of tombstone with dates and locale included."
This letter was written in late June and on July 20, a letter was received from Vice President Dick Cheney in which he wrote, "It meant a great deal to me to receive the information about the burial site of my great-grandparents in Gallia County , as well as the photographs from the cemetery. I am grateful to you both for providing this important piece of family history for me." He then added, "I would be very pleased to accept honorary membership in the lineage society. Lynne joins me in sending our thanks and best wishes." Signed, Dick Cheney.
For those interested in knowing, the line of descent appears as follows:
1st generation Elias Eaton Cheney, 1793-1859 married Lucy Fletcher, 1803-
2nd generation Samuel Fletcher Cheney, b. 1829 Boscawen, Merrimack Co., NH d. 1911 probably NE Buried Gallia County, OH. Married 24 Sept 1861 Defiance , OH Ellen/Ella Phillips b. 3 Feb 1840 in Silver Creek , NY d. 29 Mar 1909 in Gallia County , OH . Ella was the daughter of Jeremiah and Louisa Langdon Phillips, both born in Silver Creek , NY . This information was found on Ellen's death certificate in Gallia County , OH . It was signed by her daughter Belle Cheney Webster. Belle was a sister to Thomas Herbert Cheney, grandfather of Vice
President Cheney. In 1860 census records, Samuel lived in Defiance County, OH. He married Ellen Phillips in 1861 and in the 1870 census, he and Ellen have 4 children, the youngest
being (Thomas) Herbert, age 1. (There is also a young girl, Ida Cheney, living with the
family and she was living with Samuel at the age of 3 before his marriage to Ellen.) In
1880 the family is still in Defiance with Herbert, age 11. By 1900 Samuel and Ellen are living
in Buffalo Co., NE and by 1910 Samuel was living in Morrill County, NE. Ellen had returned
to OH and died in Gallia County in 1909. Samuel died in 1911 and was brought to Gallia County, OH for burial beside his wife and daughter Belle Cheney Webster.
3rd generation Thomas Herbert Cheney b. 1869, Defiance , OH d. 1947
4th generation Richard Cheney b. 1915
5th generation Vice President Richard Cheney b. 1941
Samuel Fletcher Cheney was a Captain in Co. B, 21 st Regiment, Ohio Volunteer Infantry. This unit moved to Gallipolis, Gallia County on May 23 to July, 1861. One of the requirements for membership in the lineage society is that the ancestor either served in or lived in Gallia County at one time.