Click on photos for enlargement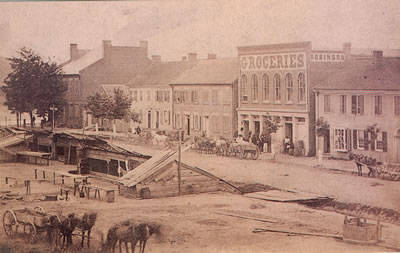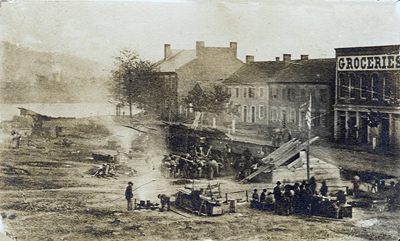 The above photos show City Park as it was used by the Union Army during the Civil War. Although the city didn't see any direct action during the war its location at the junction of the Kanawha and Ohio Rivers made it a strategic target for the South and it was therefore heavily fortified and was an important regional facility for storage of critical military supplies and was also the location of a large military hospital.
---
The links in the left hand column under the History heading, all bring you to stories about events and people that were connected to Gallia County's role in the Civil War. The first link brings you to articles in The Gallipolis Journal in sequential order from the beginning to the end of the war. The second link is to more than 200 letters that soldiers from the war zone sent either home or to the editor of the Journal. Subsequent links are for military rosters and articles about the two direct military conflicts involving Gallia County, Jenkin's Raid in March 1863 and Morgan's Raid in July of the same year. Although Jenkin's Raid did not take place on Gallia County soil, soldier's from both the military post and military hospital as well as many civilians crossed the river to take part in the action. There is a list of Gallia County prisoners who died in Southern prison camps and the accounts of two reunions that took place years after the war had ended. The last ten links all refer you to stories about individual exploits.